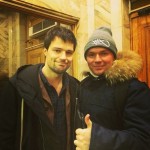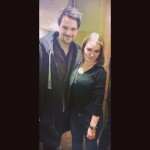 Full Video (in Russian):
Quotes:
"

At ten o'clock I went to the casting in the apartment of my friend's agent.

There were only bare walls and a computer.

We installed video with director Mark Waters, who at that time was in Los Angeles, he began to give me directions, and I would do the audition scenes before the web camera.

Finally, Mark asked: "And show me Moscow!" We brought the laptop to the window from which you could see the Red Square.

Mark said: "Wow!" A few days later I found out that I got the role. I

Feel that Red Square has helped me in this! "

"We hope that this year we'll be able to make a second movie, but, of course, everything will depend on the willingness of the audience to watch the movie."

"When I was told that I was "approved", I did not know the word, the concept. And when I do not understand English, I just nod my head," - about how he "accidentally" agreed to the role

"A year and a half ago I had something similar to an internal crisis. For a long time, I did not know what I wanted. I Thought it must be New York - its theaters, museums, shops, English. My English agent said that if I was going to New York, he told me to arrange a meeting with the casting director. I met, left, returned to Russia, and a few months later the agent said that there was a proposal to try on a new Waters' film"
Danila on Skyping with Mark Waters: I showed him two scenes from Richelle's 1st book... #VAPressConference

"The first scene is how real a Dhampir must kill a Strigoi. I showed him some gestures and read the text." - Danila #VAPressConference

"The second scene was about how Dimitri first understood he was falling for Roza." - Danila #VAPressConference

"I must show how i see her (Roza), what i'm thinking, how i'm looking at her, what i'm thinking about her." - Danila on auditioning for VA

Danila on his #VAMovie partners: All the guys are so young (i repeat: so young!) But all of them are incredibly talented #VAPressConference

"They (Dominic & Lucy) are big professionals but they're funny too. They made my hard work easier because both have a great sense of humor."

"There were a lot of joke and laugh during the shooting. They (Dominic & Lucy) helped me with my adaptation very much!"

"She (@ZoeyDeutch) works so much and so hard! She had only one day off on this shooting, but i never heard complaints from her."

"He (Mark Waters) is a super professional! Mega professional! I got a huge irreplaceable experience during our work!

"I repeated and will repeat: I'm lucky i had the chance to work with him." - Danila on Mark Waters!

"I must say my personal thanks to this amazing writer and woman (@RichelleMead). She created a very interesting character: Dimitri"

"She allowed Dimitri to fall in love, to love & to protect those he loves! He's a gentleman & i really appreciate it! Thank you, Richelle!"

"I can't compare these movies (Vampire Academy/Twilight/Harry Potter). Every single one of them has their own mythology."