Lucy and Zoey are featured inside Girls' Life Magazine in the February/March 2014 issue. You can check out Zoey's Hallway Survival Guide and see what Lucy had to say about Vampire Academy below: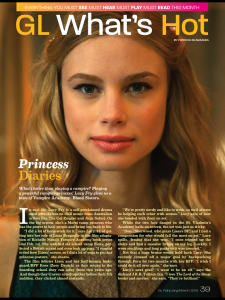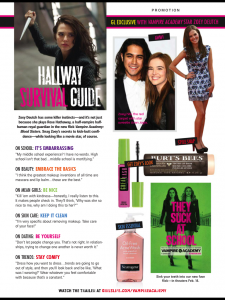 Lucy's Transcript:
In real life, Lucy Fry is a self-proclaimed drama nerd who thrives on chill music from Australian artists like The Cat Empire and Jinja Safari. On the big screen, she's a Moroi vamp princess who has the power to heal people and bring 'em back to life. "I did a lot of homework for it," says Lucy, 21, of getting into her role of Lissa Dragomir in the film adaptation of Richelle Mead's Vampire Academy book series (out Feb. 14). She watched old school vamp flicks, perfected a British accent and even took up yoga, "I wanted to feel how [Lissa] moves, so I did a lot of yoga to get that princess posture," she shares.
The film follows Lissa and her half-human bodyguard/BFF Rose (Zoey Deutch) as they return to the boarding school they ran away from two years ago. And though they'd never acted together before their VA audition, they clicked almost instantly.
"We're pretty nerdy and like to work, so we'd always be helping each other with scenes." Lucy says of how she bonded with Zoey on set.
And while the two face danger in the St. Vladimir's Academy halls on-screen, the set was just as tricky.
"Dom [Sherwood, who plays Lissa's BF] and I had a competition for who would fall the most on set," Lucy spills, 'fessing that she won. "I once tripped up the stairs and had a massive bruise on my leg. Luckily, I wore stockings and long pants so it was covered."
Not that a huge bruise would hold back Lucy: She recently crossed off a major goal by backpacking through Peru for two months with her BFF. "I wish I could do it all over again," she says.
Lucy's next goal? "I want to be an elf," says the diehard J.R.R. Tolkien fan. "I love The Lord of the Rings books and movies," she says. "They're brilliant!"