Friday, February 28, 2014
Watch Lucy speak a little Spanish in the video interview below!


Magazine in Russian. Photoshoot done in LA:
March issue: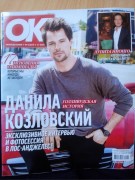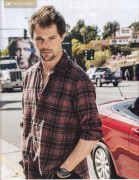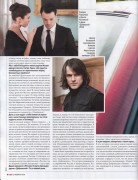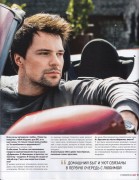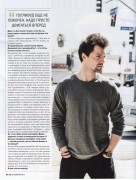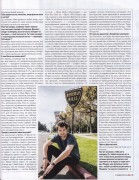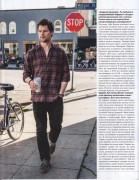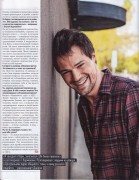 Source: Alena Schtender
Thursday, February 27, 2014
Zoey and Lucy talked about some of their cast members: Dom, Danila, Olga, and Sarah. There is also some new behind-the-scenes clips in the video!


Wednesday, February 26, 2014
Vampire Academy author Richelle Mead says Australian fans could help ensure the film adaptation turns into a franchise.
Based on the first of Mead's six-part novel series, the Vampire Academy movie has already opened in the US, but its box office bite wasn't strong.
It's earned approximately $US6.79 million ($A7.6 million) since it opened and at this point Mead says it's hard to say whether there will be a sequel, although she's crossing her fingers.
"It pulled in its fan base, but not necessarily people who weren't familiar with the book," she says, adding it will need to draw more non-fans to reach franchise territory.
"I think they're (also) just waiting to see how things pan out here with the box office and in other countries over the next few months ... it has a huge following outside the US so that could be a determining factor as well."
One of those enormous fan bases is in Australia, where approximately three quarters of a million books have been sold.
While the US wins in terms of sheer numbers, Australia has the highest per capita of Vampire Academy readers.
"If you want the greatest percentage in any country who's reading Vampire Academy it is Australia, so they definitely are near and dear to my heart," she says.
Mead toured Australia in 2009 for the fourth book in the Vampire Academy series, Blood Promise.
"I really had my very biggest crowds I think in Australia," she says.
While in Sydney, they even threw a Vampire Academy-style after party at a university - a first for Mead.
"We'd never done anything like that in the States. I just thought, is anyone even going to come to that?" she says.
"And it was huge. Just tonnes of fans."
One of the new Vampire Academy fans is Lucy Fry, an Aussie actress who plays Lissa Dragomir in the film.
A peaceful vampire (called Moroi), Lissa is dragged back to Vampire Academy with her best friend, Rose (Zoey Deutch). A half-human half-vampire guardian-in-training (known as Dhampir), Rose is tasked with protecting Lissa from the dangerous, bloodthirsty Strigoi vampires.
Fry has read Vampire Academy five times since she was cast as Lissa. And it was seeing the young actress and her co-stars bring Vampire Academy to life that really impressed Mead.
"They did such a good job of casting," she says.
"I think that was just what floored me when I saw it, was just how well each one of these individuals gets what I was trying to do in the book."
Although the story had to be streamlined, Mead was also pleasantly surprised at how much was kept in the film from the book.
"I expected more cuts than there were," she says.
Mead took a peripheral, advisory role when it came to making the film (which she says is pretty normal).
She says Hollywood and publishing are so different, but they're ultimately trying to tell the same tale.
"It's been a lot of fun watching this side of things," she says.
"They add a whole new dimension to my story."